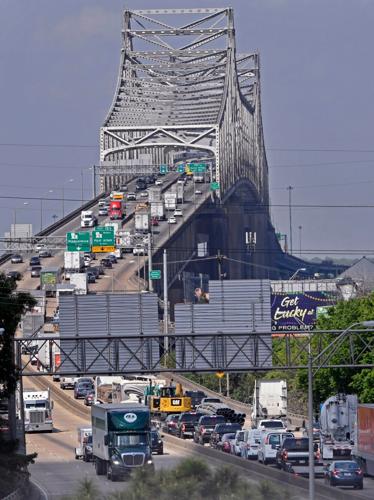 Traffic backs up onto the I-10 Mississippi River bridge waiting to use the Plaquemine exit Thursday March 28, 2019, in Baton Rouge, La.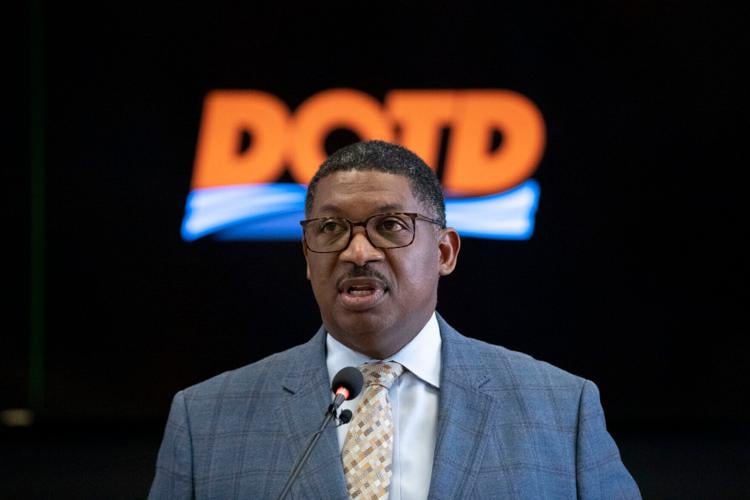 Shawn Wilson, secretary for for the state Department of Transportation and Development.
In a sudden turnaround, the state plans to delay the closing of one lane in each direction through a corridor of Interstate 10 in Baton Rouge until at least 2025.
Shawn Wilson, secretary for the state Department of Transportation and Development, has said for months that trimming the 3-mile section between La. 415 and the I-10/12 split would save time and money, and eventually lead to major improvements in traffic flow.
But Wilson said Monday with little fanfare that lane restrictions set to begin in early 2024 will be delayed a year.
"While this project will be extended by a year we will continue to make improvements to other highways in the region as mitigation that would not have been possible," the secretary said in a statement.
The surprise announcement could be seen as trying to defuse a potential gubernatorial campaign issue for Wilson, who is pondering a bid for governor.
Wilson, a Democrat, has come under fire by GOP gubernatorial contender Jeff Landry, who is attorney general, over how the $1.2 billion I-10 widening project is being handled.
Plans to curb traffic through one of the mostly heavily congested, and routinely backed up, parts of the Baton Rouge area have caused angst for months.
Wilson and others have repeatedly said steps could be taken, including staggered work shifts for state workers, that would ease problems during the 14 months or more when I-10 is reduced to two lanes in each direction.
But state and local officials have said the work, even if it will produce good results, is all but certain to create nightmarish driving conditions.
About 152,000 cars and trucks use the corridor daily.
The new schedule was lumped into a low-key announcement on work planned for westbound traffic near the Mississippi River bridge.
The state is scrapping plans to reduce a short span of interstate to one lane near the bridge.
Under the original design, about 1,200 feet of westbound I-10 — less than a quarter of a mile — that is part of a "flyover" just ahead of the bridge would have been trimmed from two lanes to one.
But both lanes will remain open under the latest version of the project.
Wilson said part of the reason for the change stemmed from concerns about 18-wheelers with wide loads being able to navigate one lane.
"The flyover is mainline traffic," he said. "We talked about what would be a worst-case scenario and the worst-case scenario was a single lane in the corridor."
The flyover portion of the project, including maintaining two open lanes for westbound traffic, will cost about $50 million.
Last year Landry claimed the state planned to reduce I-10 from three lanes in each direction to one through the 3-mile section.
Wilson said the state had no such plans.
Asked if Landry's criticism played a role in the bridge-related change, Wilson said, "Absolutely not. We talked about this for almost a year. This is not something you do on the back of a napkin."
The original announcement to trim a section of I-10 from three lanes to two in each direction came nearly one year ago to the day.
Since then state lawmakers, local groups and others have complained about what the work will entail.
The entire project was set to be done in 2026 or 2027.
What the latest switch means for that timetable is unclear.
Wilson was always expected to leave his post by January 2024, when Gov. John Bel Edwards leaves office, if not before.