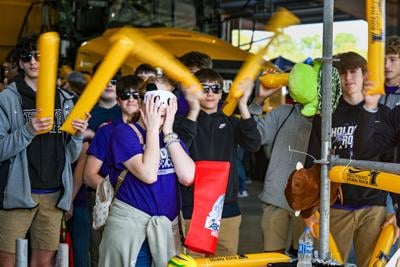 Hundreds of Louisiana high school students milled about under the shade of a massive metal pavilion, curious if the industry life was for them.
Dozens of displays from Louisiana industrial companies beckoned at Build Your Future Day, a construction sector recruitment event hosted last month by ABC Pelican, the Associated Builders and Contractors' Baton Rouge chapter, at the Lamar-Dixon Expo Center. All the big players were there — Turner Industries, Performance Contractors, MMR Group, to name a few — as were plenty of others.
They brought their towering machines, their virtual simulators, their friendly handshakes and smiles, all to convince teenagers that working as a welder, a pipefitter or a millwright could be a long, lucrative career.
"It's a giant construction show and tell to literally show them what we do instead of just hearing about it, read something on social media or in a book," said Chad Pierce, training and workforce development specialist for Cajun Industries.
Truth be told, those companies need interested workers sooner rather than later.
A recent report from economist Loren Scott said New Orleans, Baton Rouge and Lake Charles have $154 billion worth of industrial projects in the queue, much of which could move forward with construction as soon as next year.
Scott's report also cited a Greater Baton Rouge Industry Alliance survey that says the region will need as many as 5,400 more industry workers in the next two years to handle demand, including 2,000 electricians, 500 instrument technicians, 700 millwrights and 2,200 pipefitters and contract welders.
Turner Industries, which already employs 10,000 people, is planning to add 3,000 more workers to handle the boom. Meanwhile, Performance Contractors has hired 2,000 workers over the last year. Similar expansions should happen at ISC, MMR Group, Cajun Industries and others.
Though they're no strangers to workforce scrambles, industry executives are leaning on the state's education and training network to boost their ranks with time running out so soon.
"We have definitely determined that there will be more demand than supply of skilled craft workers," said Connie Fabre, GBRIA's president and CEO. "If you look at the age attrition as well as everything going on in the market, there's just an ongoing need for developing more skilled craft (workers)."
A familiar struggle
Stephen Toups, CEO of Turner Industries, noted that Louisiana has been through similar workforce development challenges in recent years, going far back as 2005.
But what makes this go-round unique, Toups said, is that leaders from state agencies, higher education institutions and businesses are all "pulling in the same direction" on workforce development needs.
That being said, Toups still needs thousands of workers. And soon.
"There's not just one thing," he said. "What we need is we need people interested in getting in the business. We need an increase in IT professionals just like we need an increase in mechanics just like we need an increase in welders."
Industrial are likely to feel the "pinch" in the next year or so, particularly for millwrights and pipefitters, said David Helveston, president and CEO of ABC's Pelican chapter.
"I don't know that you've seen the true labor shortages hitting just yet," Helveston said. "There's certainly a number of projects on the block that I think, if they do come to fruition, you'll see wages picking up and (our) members scrambling to find skilled workers."
Firms are attacking the workforce development problem in two ways, Helveston said.
The first is through "upskilling," an industry term for pushing entry-level workers through training programs to boost their skillset and make them available for positions of need. The second is partnering with local high schools to convince students to pursue industry careers.
Fabre said her organization steered a 2012 initiative to beef up the state's industrial workforce development ecosystem, which led to investments in the state's community and technical colleges, including new worker training facilities. She said she's confident in the state's existing workforce programs, though GBRIA hopes to connect with Gov.-elect Jeff Landry's administration soon to seek its help in promoting industry careers.
"I think you're going to see a concerted effort to push more people into the existing (training) programs, and I think the colleges and universities will have to staff up," said Andrew Fitzgerald, senior vice president of business intelligence at the Baton Rouge Area Chamber.
There's some good news, according to BRAC officials. About 2,500 construction workers who are still out of work because of COVID cuts are available for industrial contractors to scoop up. Industrial projects also have lengthy timelines, which "gives us a little bit of lag time," Fitzgerald said.
However, national battles for talent are likely to drive construction wages higher, Fitzgerald said.
In the meantime, industrial contractors likely will have to bring in out-of-state workers should new projects begin soon, Fabre and Helveston said.
Still, Fabre is confident in the state's industrial contractors to find enough workers to meet demand. She said they're "very resourceful, very creative" in their workforce efforts.
"The companies, the contractors, they will recruit as best they can locally with all of the methods that they have, all the online methods and interviewing people and so forth," she said. "At some point, they have to go out. They're advertising all over the country."
'A severe shortage'
At the ABC Pelican event in October, corporate recruiters repeated familiar refrains.
A worker shortage is coming. They need millwrights, pipefitters and everything in between. It's a struggle to find students interested in industry careers, especially when their parents — who may have already worked industrial jobs — are hesitant about their children following that path.
Steven Kraemer, a human resources recruiter for MMR Group, said his company needs electrical workers and instrumentation technicians. Justin Tassin, a workforce development manager and coordinator for Group Industries in Baton Rouge, added that crane operators and pile drivers are "a dying breed."
"We're going to have a severe shortage," said Shane Firmin, director of workforce development at Brown and Root, a Baton Rouge-based industrial construction, engineering and maintenance company. "There's going to be a lot of work in the Gulf Coast area."
Industrial job postings in Louisiana are increasing, said Ted Grunenwald, co-owner of Roaddog Jobs, a career platform that he described as "Indeed for industrial construction jobs."
"We talk to lots of contractors. All of them are having trouble — getting people in, keeping people on projects, staffing what's coming up," Grunenwald said.
The industry recruiters said they're not trying to dissuade anyone interested in the traditional four-year college route. But they also wanted students to know that industry careers are safe — and pay well.
"The college push is definitely what the majority of them are getting, which is fine," said Brennan Anderson, training coordinator at performance Contractors. "We don't steer anybody away from college either. We have a lot of career paths for four-year graduates from universities."
The firms are even trying social media, including TikTok reels, to recruit high school students.
"Long gone are the days where you can just put an ad in the paper and have 50 people knocking on your door," said Pierce, the Cajun Industries workforce specialist.
"But you have a much better chance if you can put out a TikTok or some type of B-reel or whatever — I don't even know the terminology," Pierce said with a laugh.